The New Hidegkuti Nándor Stadium in Budapest Becomes First in Eastern Europe to Lit by LED Technology
Release time:2017-06-20 Hits: 【Print】
The new Hidegkuti Nándor Stadium in Budapest was inaugurated on 13th October with a gala match between the stadium's home team MTK Budapest and Portugal's Sporting Lisbon.
MTK Budapest is one of the country's most dominant football clubs and the original stadium which had been built in 1912, was no longer adapted to the conditions needed for today's game.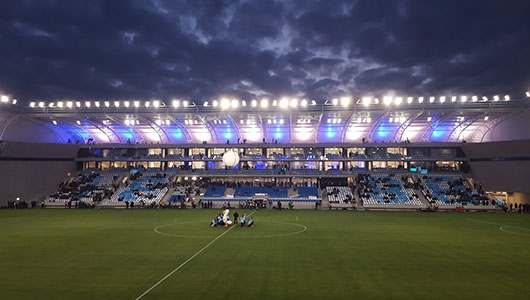 New Hidegkuti Nándor Stadium in Budapest becomes first sports stadium in Eastern Europe to be illuminated with LEDs. (All photos courtesy of Schreder)

The stadium was completely demolished in 2015 to build a new state-of-the-art arena to welcome international competitions and create a first-class experience for the fans. The new facility, named after one of Hungary's legendary players, Nándor Hidegkuti is located in exactly the same spot as the old one in the heart of Budapest's 8th district. It is able to seat up to 6000 spectators and has an UEFA category 3 rating.
Lighting plays a critical role in the success of any sports venue and the managers of the stadium wanted the latest in sports technology. They wanted a solution that would provide the best quality of light on the pitch, ensuring perfect conditions for the players and the supporters. As the stadium will be used for international football games, the lighting on the pitch has to meet the criteria imposed by UEFA and FIFA as well as the levels required for high-quality TV broadcasting (more than 1,500 lux). The managers also wanted a solution that would offer the possibility of dynamic lighting effects to bring the stadium to life during the games and create a new level of excitement.

The OMNIblast was ideal for this stadium. It provides the required lighting levels for national and international matches with minimal light trespass, which is important as the stadium is in the heart of the Hungarian capital's urban landscape. The optics inside the floodlight are made from silicone to prevent any overheating, delivering optimal lighting at all times. It guarantees perfect glare control, a high color rendering index (CRI) and television lighting consistency index (TLCI 88) as well as flicker-free lighting to provide vivid images on television screens for fans watching at home.
Soccer players play a game at the new LED illuminated Hidegkuti Nándor Stadium in Budapest.

A total of 216 OMNIblast 3 have been installed along the roof. They are controlled by the DMX protocol which enables each fixture